The time has come and the brand-new version of Pho.to Lab PRO is already available on Google Play. Such things do not happen every day, so we believe it's well-worth mentioning what great new things you should expect from Pho.to Lab PRO 2.0.
The major change that came to Pho.to Lab PRO 2.0 is the completely re-designed interface. First of all large previews for categories and templates were added for you to find the right effects and explore new ones at once. Another usability change and a plus for the Pho.to Lab PRO 2.0 is a quick navigation bar. Now it became easier to switch between groups, access the home page or select your Favorite filters.
Take a quick look at the updated interface: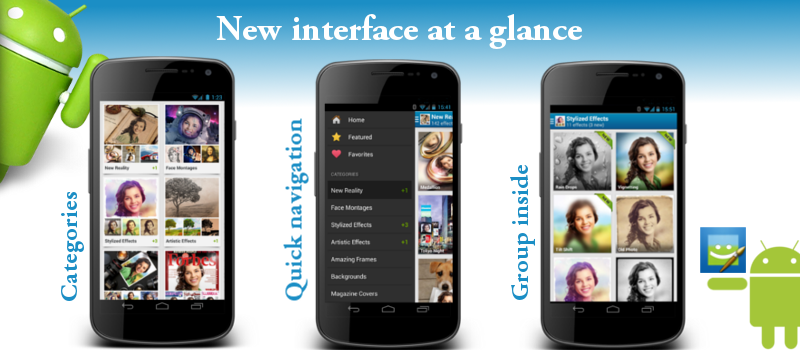 Still our prior aim remains the same: to offer you as many high-quality filters and frames as possible. What brings us to new effects included in fresh Pho.to Lab PRO.
Get your funny business going with our completely new group for Android, called 'Headwear'. Though most templates from this category might come in handy later this year, you can hardly find a person who'd refuse trying a King's crown on (any day of the week).
A few effects have enriched the 'Stylized effects' group. Now you can experiment with the 'Rain Drops', 'Vignetting' and 'Tilt Shift' templates. Unusual 'Pencil vs Reality', artistic 'Charcoal Drawing' and famous 'Dave Hill' were added to other categories. More effects to come!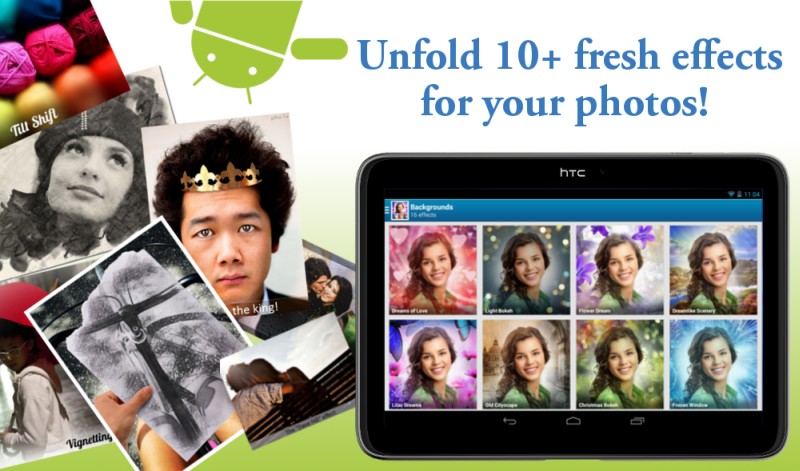 ________
NB: the Free version available on Google Play haven't yet been updated, but there is a chance to enjoy a fully functional preview for those who are not quite ready to switch from Free edition. Learn how to get access to all new things here!