Finally! We are happy to announce the launch of brand-new Pho.to Lab for Android (beta version)! It's not just another update, but a complete re-design of the application that comes with new winning and convenient user interface and recent groups of effects.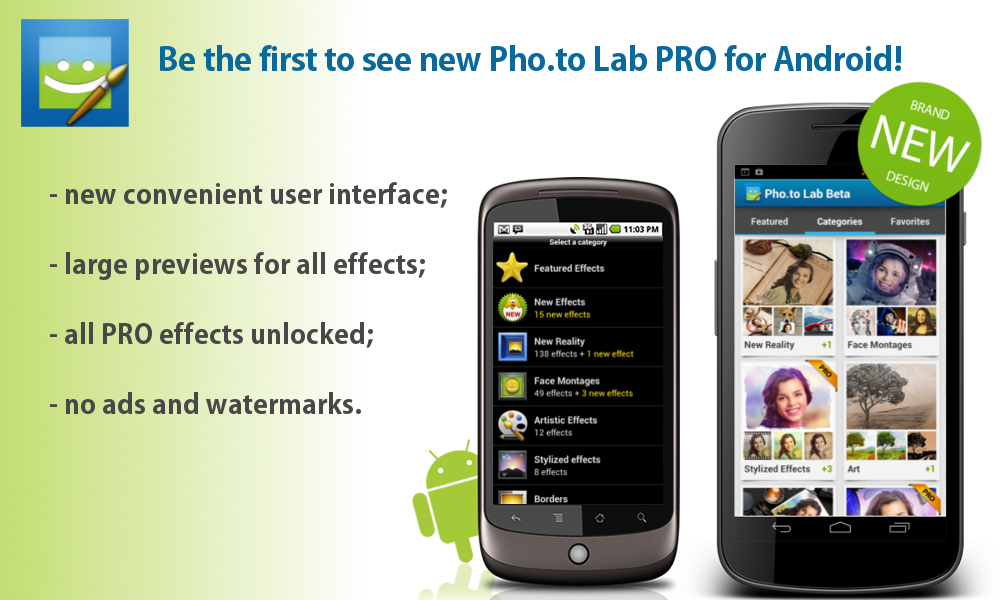 We know we kept you waiting for quite a while and that's why we feel like you deserve a chance to give a thorough try to the PRO version (which means all premium effects unlocked) of Pho.to Lab on your Android device free of charge.
This opportunity is available for both Free and PRO users.
Here is the guide on how to get your free copy then (it is important to follow the steps below right on your Android device):
Use the email of your Google Play account to join the Pho.to Lab Beta community on Google+.
Follow this link to download the application to your device. Make sure to agree to become a tester.
Find and click the Download Pho.to Lab Beta from the Play Store and install the application. Please note that it will be added as a separate app and won't replace the version of Pho.to Lab you currently use.
Now you are ready to be one of the first to preview the new Pho.to Lab PRO!
But great changes may cause errors in Pho.to Lab. That's why we will appreciate it if you share anything you consider worth sharing about your experience via Google+ community. We kindly ask you not to leave any reviews for this version on Google Play, as we'd like to consider every response and keeping feedback in one place is a part of success.
Have fun, guys!