Retro and vintage style photography has become extremely popular in the past years! People love photos that look 'old-style' and have a vintage look, because they create a nostalgic atmosphere, awaken special feelings and memories.
What is the difference between 'retro' and 'vintage'? It is generally said that retro focuses on the style of the 1910s to 1930s, while vintage recalls the time period between the 1950s and 1980s. However, some people use these terms interchangeably.
Funny.Pho.to boasts a variety of vintage and retro-inspired designs, filters, collages and frames. Want to make your photos stand out and look really different? Try aging your modern digital pictures at Funny.Pho.to.

First of all, try some color filters to achieve an "old-fashioned" look-and-feel in your photos: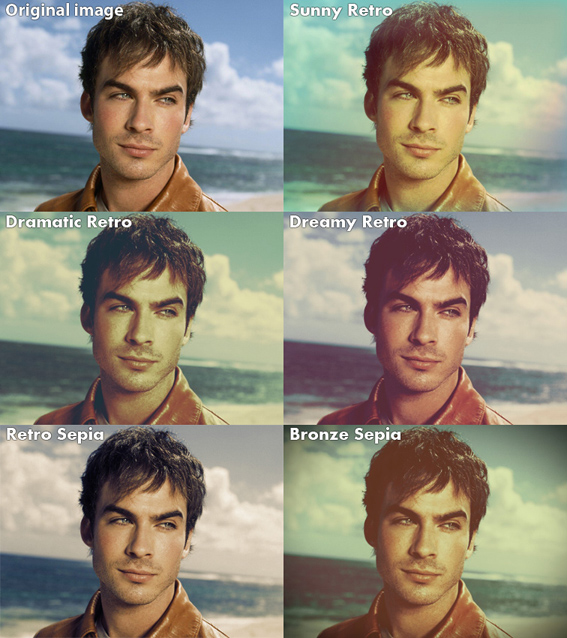 Here are the effects that will help you achieve that vintage look (just click on the links and apply these effects to your photos):
Sunny Retro
Dramatic Retro
Dreamy Retro
Retro Sepia
Bronze Sepia
Here is another tip for using the color filters at Funny.Pho.to: turn your photo into black and white before applying a color filter. You can desaturate an image it in any editor, or upload it to Editor.Pho.to  and use the 'Black & White Photo' tool in the 'Artistic effects' section. Then experiment with different color filters at Funny.Pho.to – you are sure to get interesting results:

There are also some quite fantastic templates at Funny.Pho.to that will both make your photo look vintage with the help of a special filter or texture, and also place it into a retro setting. Just click the links below the pictures and put your photos into these romantic retro templates:

Retro is sometimes associated with grunge style and textures. Here are some examples of grunge style effects at Funny.Pho.to. Apply these effects to your pics and go back to the times of film photography: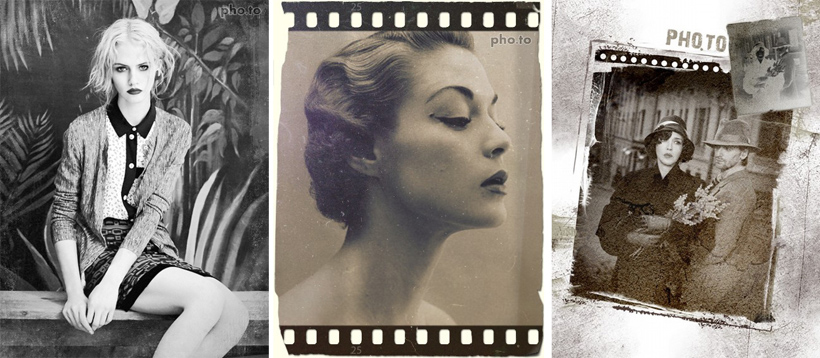 But that's not all! You'll find a heap of vintage frames and realistic photo montages at Funny.Pho.to that will let you put your photos into different retro stories. Follow the links below the pictures and place your photo on a vintage Easter card, into a vintage locket, or let it travel into the Beatles epoch:


You may also like to arrange your photos into a scrapbook design:

As you see, vintage art is becoming a new trend. So, get inspired  and turn your usual photographs into unique vintage pictures at Funny.Pho.to!